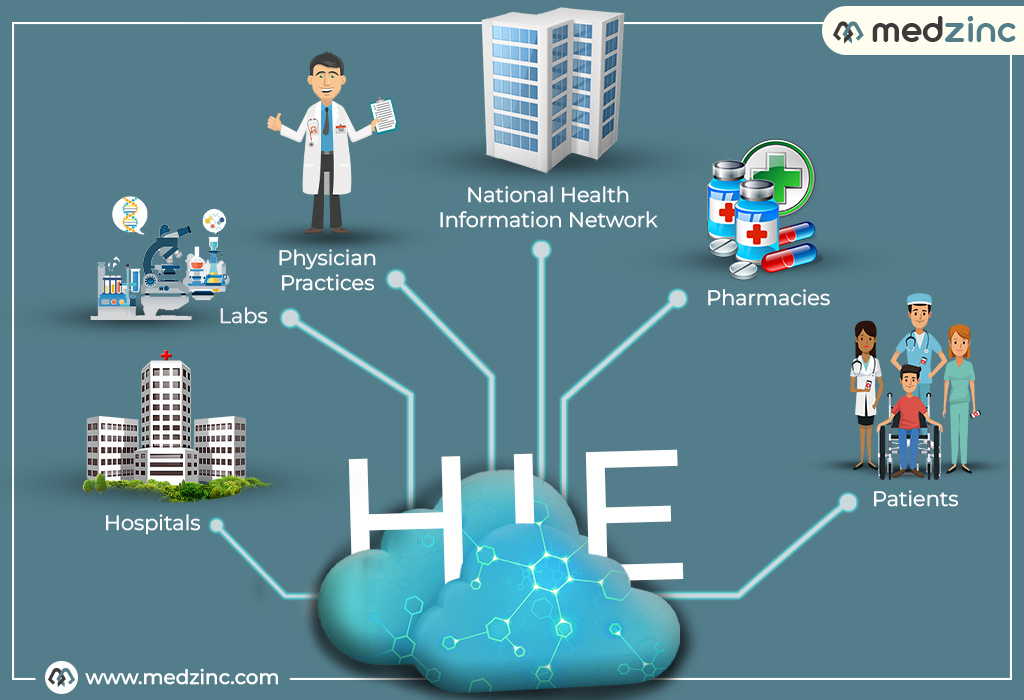 What is Health Information Exchange and Data Sharing?
With the continuity of Technology advancement in the Healthcare industry. It has been consistent in offering new ways of improving the quality of care. Moreover, the Information industry has made significant contributions to the healthcare sector. Including increasing use of telehealth services, electronic medical records, and mobile technologies. Also, the interest in electronic data trade is flooding among medical care experts. Moreover, due to the rising interest in a productive medical services framework. Furthermore, there are a few advantages of HIE which we will take a plunge into in this blog article. Above all, how about we first dive into the fundamentals of health information exchange (HIE).
HIE (Health Information Exchange)
In simple terms, HIE, or the Health information exchange is a data exchange channel. That enables stream less exchange of health-related information between - doctors, nurses, patients, and pharmacists. Moreover, it enables the exchange of vital health information at
Better quality,
High Speed,
Compact Security, and
Low Cost
Moreover, HIE contains Health-related Patients data that usually includes:
Past medical history
Laboratory orders and results
Current medications
Up to date progress notes
Discharge summaries
Patient referrals
Types of HIE (Health Information Exchange)
Direct - Exchange HIE
The Direct Exchange gives healthcare providers the ability to exchange patient data. That to the healthcare expert involved in the patient's care over the internet. In simple terms, a directed exchange is a secure email b/w two health providers.
Query Based - Exchange HIE
Query Based - Exchange HIE enables healthcare experts to acquire information about patients. Furthermore, this type of HIE is usually taken into use at the time of emergency.
Consumer Mediated - Exchange HIE
Consumer Mediated - Exchange HIE gives patients the power to manage & take care of their health records. Moreover, at the point when in charge of their well-being data, patients can assist with moving data between suppliers. Furthermore, through Consumer Mediated Exchange HIE, a Patient can :
Give other providers vital health information
Find and fix missing or inaccurate information
Monitor and track their health care
The Importance/Benefits of HIE (Health Information Exchange) in Healthcare
It is pretty safe to say that HIE is playing a vital role in improving the quality of the healthcare system. Its ability to exchange data with speed, better quality & security. Moreover, it has made it easy for medical experts to offer effective medical care to patients. Furthermore, here are a few Benefits of HIE in healthcare
Aids in Improving Healthcare Quality
The biggest boon of HIE is it aids in improving healthcare quality delivered to patients. Furthermore, being easy to use and aggregating data with consent ensures the safety of patients by reducing medical errors.
Level up Efficiency
Next up is to accelerate the efficiency levels of medical providers. HIE reduces unnecessary tests & services by ensuring everyone involved in patient care has access to the same data. Moreover, It acts as a supporting tool by offering support in clinical decision-making to medical experts.
Graceful Administrative Task
HIE which is known to lower the task by simplifying them. And this is what it does in gracefully lowering & simplifying administrative tasks. Thus, reducing the time taken & cost incurred.
Eliminates Testing and Improves Outcomes
The HIE framework can take out pointless and excess testing for medical services suppliers. Moreover, in this way, improving the quality and result of medical care.
Other Key Benefits of HIE
Disposing of unnecessary desk work and copy passages, in this way further develops productivity
Killing unnecessary or repetitive testing
Decreasing repeating short term arrangements for similar issues and forestalling ongoing read missions
Working on the checking and announcing of general well being data
Making a specialized help framework to assist with utilizing pertinent state and public drives
Bringing down by and large medical care costs
Challenges Associated with HIE ( Health Information Exchange)
Absence of set Standards
Absence of norms in computerized well being data trade can prompt some security concerns. Thus, data traded carefully should stick to guidelines for use in EHRs.
Absence of Clarity
Trading well being data in different states can be troublesome because of the variety in security rules. Besides, it is challenging to exchange patients' well-being data with suppliers in different states. Which is due to state regulations.
Generally Cost of HIE
Taking care of the expense of the well-being data trade can be troublesome as it incorporates different expenses. for example,
Buying and execution costs,
Cost to partake in neighborhood or state HIE association,
Exchange charges for trading data by merchants.
Also, now and then extra costs come up including laying out a connection point for well being data trade.
Conclusion
To put it in a nutshell, HIE is becoming the cornerstone of better workflow & better medical outcomes. Moreover, it gives easy access to the data for all healthcare needs. Hey!! Thank you for your Time. If you want to learn more about the on-going Advancement in Healthcare IT. Then, Do check our other Blogs. You might find them insightful. Thank you.