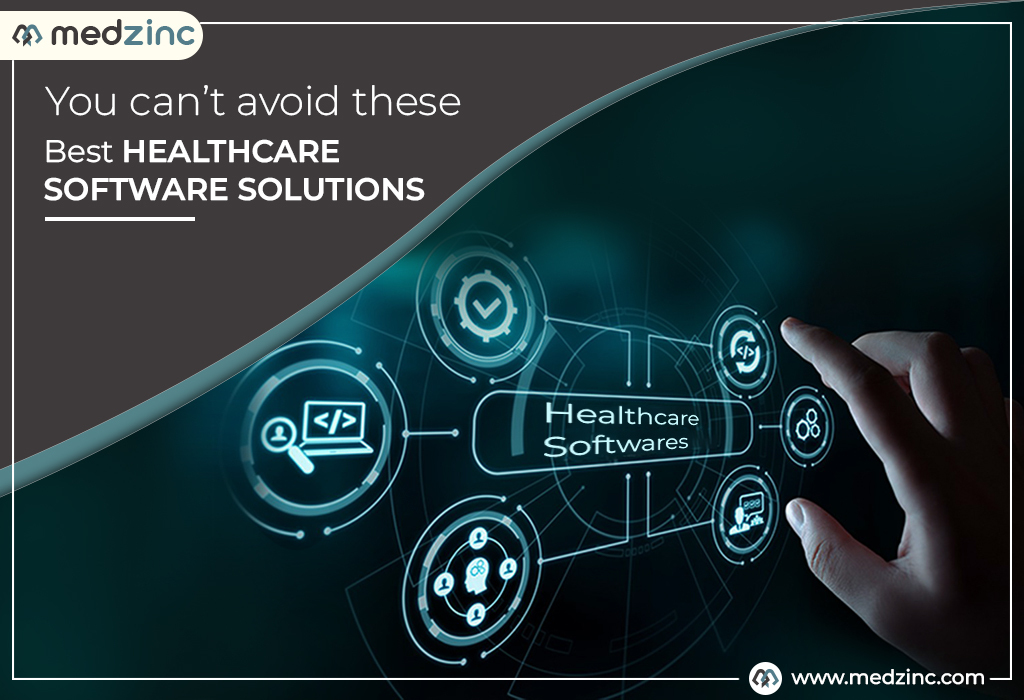 Top Healthcare Software solutions For Your Practice
Over the last few decades, there have been significant changes in healthcare software solutions, whether in terms of technology or infrastructure. Healthcare has undergone massive changes in recent years as AI technology has advanced.
Furthermore, patients today expect healthcare services to be easily accessible, safe, and convenient at all times. And it is because of this that the use of Healthcare Software solutions has become a requirement for all healthcare providers.
However, with so many options available, it can be difficult for healthcare providers to select the best healthcare software solution for their enterprise.
Hello!! Folks, Medzinc is back with a new blog post titled "Top 10 Healthcare Software Solutions For Your Practice." This blog will introduce you to the Top 10 healthcare software in the healthcare industry today. Furthermore, this blog will assist you in analysing the features of each software, making it easier for you to make an informed decision.
So, without further ado, let's take a look at what this healthcare software is all about.
What is Healthcare Software Solutions?
Any software used in healthcare is referred to as healthcare software. Moreover, there are numerous types of medical software solutions available, each serving a unique set of functions.
These can include:
Diagnostic software
Therapeutic software
Software with the ability to run medical devices
Software utilised in the production of medical devices
The software has taken in used to manage and control the quality of medical services
Top Healthcare software Solutions
The Digital version of the Patient's Paperwork is an EHR (Electronic Health Record). It is a type of healthcare software solution that makes data easily accessible. Moreover, its real-time analysis makes it vital in the time of emergency. Moreover, it can be comprehensive of a more extensive perspective on a patient's consideration.
Benefits it has to offer
For starters, it provides the patient with accurate, up-to-date, and comprehensive medical information.
Secondly, make quick access to the patient's medical history possible.
Thirdly, allow healthcare professionals to access real-time analysis of patients' medical histories.
Following that, EHRs ensure the safe and secure sharing of data between doctors, patients, and other clinical experts.
Furthermore, it aids in the reduction of medical errors while increasing the accuracy of patient diagnoses.
Lastly, it empowers health care by allowing for safer and more reliable prescriptions.
Finally, it reduces costs by reducing paperwork, improving safety, reducing testing duplication, and improving health.
Practice Management Software (PM Software)
Practice Management Software or PM in short. It is crafted in such a way that it eases management processes regardless of medical office size. Usually, small to medium-sized offices take Practice Management software in use as it eases the management of the daily operation.
Benefits it has to offer
Helps in entry & keeping a track of patients.
Eases Recording of patient demographics.
Reduces the burden of manual appointments Scheduling.
Performing billing Process
Has the ability to submit insurance claims.
Generates reports for staff members
Medical Billing Software
Medical Billing Software as the name depicts is software designed to help ease the billing process of healthcare. We all know maintaining paper records is not an easy task to draw with. They get easily torn apart or lost making it even more difficult for the administration to rectify errors and arrange everything. And this is where medical Billing software swings its magical wand, making the billing process seamless & effortless.
Benefits it has to offer
Reduce paperwork, manual labor, and errors
Improve access to patient information
Improve claim tracking.
Improve Financial Reporting...
Coding should be simplified.
Payment Ease Improves Patient Care.
Data Analysis & Reporting Software
With the advancement of healthcare software, it is now quite easier to collect, analyse, and structure volumes of data. Furthermore, all you require is the right medical software solution. And that goes the same for Data Analysis & Reporting software. With its regular analysis & report running ability, it makes it easier for you to improve the quality of your services which ultimately leads to customer satisfaction.
Benefits it has to offer
Helps business owners in better decision-making.
Save volumes of time and resources.
Improvise productive communication.
Elevates Healthcare efficiency.
Better customer satisfaction.
Medical Diagnosis AI- Software
Medical diagnosis software is an intelligent system that uses artificial intelligence to control the diagnosing process with accuracy. Moreover, this software system's purpose is to transport out the electronic and integrated diagnostic process to ensure that diagnosis results are as accurate as possible.
Benefits it has to offer
Firstly, it Helps Reduce mortality.
Secondly, it Fasten up the diagnosis process.
Thirdly, Improves quality of treatment.
Furthermore, Is highly Cost-effective.
Lastly, Faster interaction.
Finally, Helps predict the Epidemic outbreak.
EMR Scheduling Software
With EHR system integration EMR scheduling software enables the booking process of medical patients. It leverages the management of appointments electronically with an online booking portal. It also automates the whole process with simple integration of EHR software,
Benefits it has to offer
Eases the scheduling process,
Helps reduce the burden of booking on admin.
Helps avoid any errors & delays.
Medical CRM Software
Another essential medical software solution is Medical CRM software. Its capabilities allow healthcare providers to store, manage, and monitor patient visit information. Usually, the information comprises medical history, patient notes, previous interactions, and more. Thus, making it easier for healthcare providers to offer a better quality of care.
Benefits it has to offer
It helps improve customer satisfaction,
Next up, is it allows doctors to discover trends,
Helps elevate communication levels.
Tele-health/Telemedicine Software
Telehealth is a type of telecommunications software that aids in the delivery of medical services. It enables the communication between healthcare providers and patients who are not in the same room. It is usually accessed through a mobile phone or computer. The following are examples of telehealth services:
Medical attention
Patient education and monitoring, as well as
Telemedicine is another option.
Benefits it has to offer
Reduces the strain on the healthcare system
Reduces rural healthcare barriers
Helps Patients Who Have Limited Mobility
Encourages Prompt Care
Provides cost saving
Provides a Wide Range of Telehealth Technology Options
Features you should look at before making a final decision.
Make certain that you understand the fundamentals of healthcare software.
Make sure it is easy to use and adapt, not only for you but also for your colleagues.
Match your workflow to your system's capabilities.
Make certain that customer service is both free and easily accessible.
Check that you can add all of your patient records.
Inquire about integration with your clinic's partners.
Make sure you have the opportunity to ask questions at any time.
Check that the system you've chosen is secure enough to handle sensitive data.
Which Healthcare Software Solutions are best for your Practice?
Choosing the best out of the best is not an easy task. And when it comes to choosing the best Healthcare Software Solutions it gets even worse. As with the abundance of best healthcare software solutions available in the market today it's not easy to choose one out of them.
Tragically, there is no basic solution to this. This truly relies upon the specific necessities of your clinical practice. Moreover, a wide range of variables can impact this choice, For Instance, centre size, clinical field, and financial plan restrictions, to list a couple.
However, if you're searching for the best-in-class healthcare software solution, don't worry, my friend, we've got you covered. Check out Medzinc for products that are HIPAA, HITECH, and GDPR compliant. Furthermore, they are securely integrated with security features such as 256-BIT SSL, Encrypted H/W & S/W. Medzinc offers best-in-class healthcare software solutions that offer all the features that a healthcare provider would look for in software.