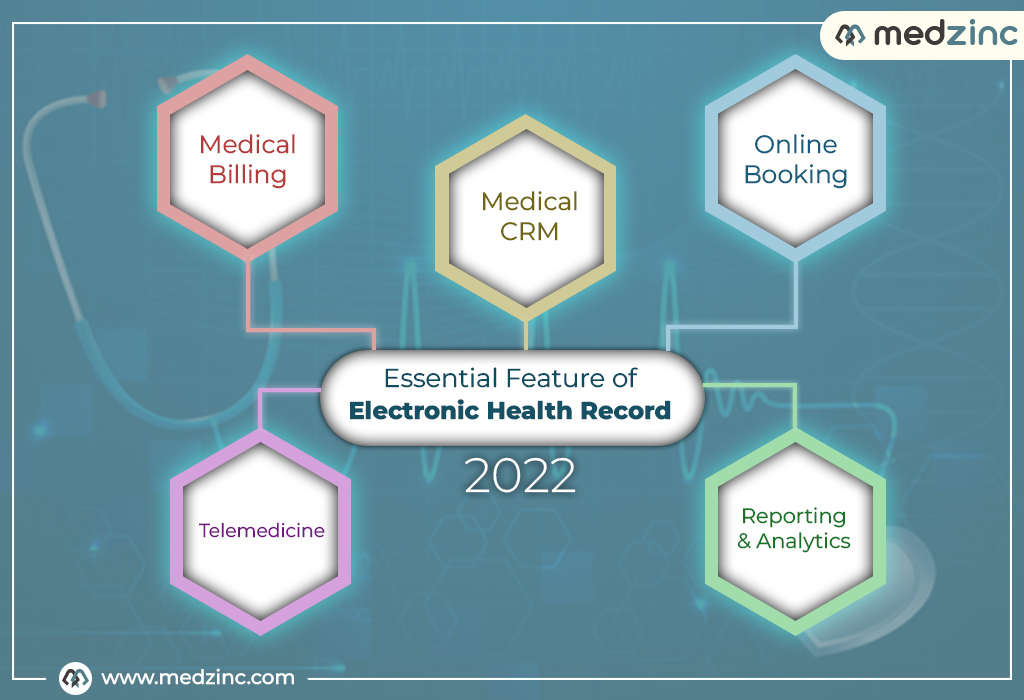 Essential EHR Features to look for in 2022!!
Electronic Health Record (EHR) features may be on your head if you want to enhance from paper records. After all, the functionality of an EHR system is just as satisfactory as the features it provides.
Yet, there is a catch. There are a plethora of them!! And it appears that each EHR solution has its own set of features. So, how do you choose the best EHR solution for your practice and finally say goodbye to paper medical records?
Don't you worry my friends this is what we are here for to assist you in making the best decision for your medical practice? And to do so, medzinc has compiled a list of the best EHR features to watch for in 2022.
This blog will not even highlight the benefits of Ehr feature, but will also give a complete overview of each ehr feature. Making it easier for you to assess & select the best EHR software.
So, What is an EHR Software?
An electronic health record is an automated model of a patient's health graph. EHRs are ongoing, patient-focused health records that make data available to only approved clients immediately and securely. It provides a more complete perspective on a patient's consideration.
Benefits of upgrading to EHR in 2022
There are numerous benefits of Ehr, and here are a few among them.:
Enhance the quality of Patient Care.
Helps simplify the Coordination Between healthcare providers & practices.
Simplified management of data.
Enhance Productivity and Efficiency
Empower Safety & Security.
Essential EHR Features to look for in 2022
Although there are a plethora of ehr features. Yet, many slightly vary from system to system, the most essential EHR features to look for in 2022 are:
Medical Billing
One of the most essential features that an ehr must possess is Medical Billing. The whole purpose behind having this magic tool is to make handling of financial transactions easier for both patients & staff.
An efficient medical billing module will ease the workflow of financial activity within the platforms, including :
Generating invoices,
Tracking and managing payments, and
Handling any claims.
Medical CRM (Customer Relationship Management)
Before anything else, when a person visits a doctor, he or she is patient with them. However, it is safe to assume that they are also customers for them. And taking good care & offering quality care is good for their business.
Remember, this will not only benefit business but will also improve patient care quality. That is why a medical Customer Relationship Management (CRM) tool is essential.
Moreover, As a good medical CRM, it assists in tracking all interactions from the patient's first visit to the most recent one. It provides doctors with critical insight into which aspects of their service are performing well and which may require revision.
Online Booking
One of the most fundamental features that every ehr software must possess is the Online Booking feature. In the era of the digital world not having an online booking platform for any business is a big tragedy. And same goes with the healthcare sector. Not only is this a prime opportunity to attract new patients to your clinic.
And this is where a good EHR system in compliance with online booking is a game-changer for medical practice. Not only does it fasten up the online booking but also,
Free up staff for other essential work,
Boosts efficiency
Enhance the speed of in-clinic services.
Telemedicine
Telemedicine is one of the most useful tools or features. Although it became popular during the Pandemic, it has been in use since the early 1920s. This tool allows more patients to receive medical consultations. As a result, improving patient care while the customer base grows. One of the key reasons it is on the list of essentials for ehr to look for is that it assists doctors in engaging with patients who:
Firstly, Are in quarantine or isolation.
Secondly, Are traveling or live far away from your clinic.
Thirdly, Have disabilities or limited mobility.
Moreover, Prefer to go for consultations without moving away from the comfort of their home.
Reporting & Analytics
ehr's Reporting & Analytics feature provides quick access to critical information such as:
Patient information
Appointment history Services used
Purchase a health package, lab tests, and much more.
Aside from information processing, it also provides reporting layouts that streamline a large portion of the reporting process.
We post such informational blogs regularly. Do check out our other Blogs.