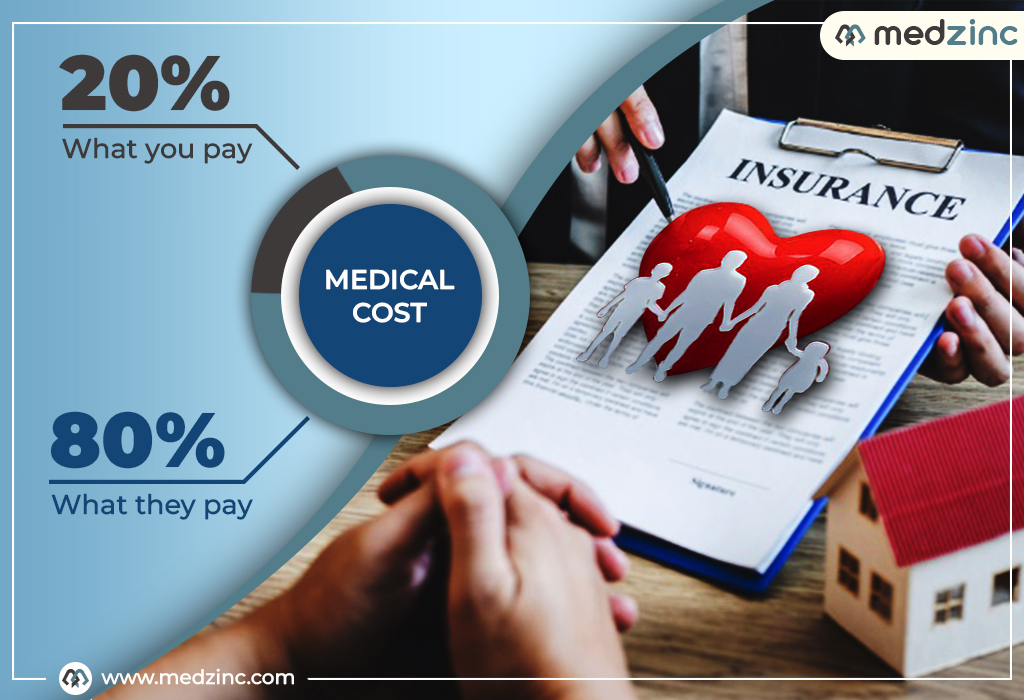 Copay - The On Spot Flat Fee
Over the past decades, there have been significant changes in healthcare be it in terms of Technology or Infrastructure. Healthcare has seen massive changes in recent years with the advancement of AI technology. And one such significance that has seen an upward trajectory is the Copay- The On Spot Flat Fee. Before the advancement in care costs, affording medical expenses was pretty challenging for the mid & low-income group. However, thanks to newly upgraded health insurance plans have made things pretty simple. We now know that it's pivotal to own health insurance. Yet we are unaware of the jargon involved in it. And one such jargon is Copay/Copayment. And this is what we are going to help you get familiar with. This newest informative article by Medzinc will cover all the necessary things you must need to know.
What is Copay- The On Spot Flat Fee?
A Copay/Copayment is the spot Flat Fee that you need to pay as you for each visit to the doctor. Be it for medication or a general health check-up. Copay covers a percentage amount of your Doctor's Visit or medication, the rest leftover is covered by the Insurance company. The percentage amount you need to pay for a doctor's visit is dignified and highlighted in your health Plan Card. Although it can vary for some depending upon their choice of plan.
Example of Copay
For instance, you got your leg broken and went to the doctor for treatment. And your The plan requires a Copay of $20, however, your total cost is $120. In that case, you only need to pay $20 and the rest of $100 would be paid by the insurance company. Also as you make the next visit irrespective of the total bill you will have to pay $20 as part of Copay/Copayment. Yet, there are some scenarios where you might not need to pay Copay at each visit.
Pro/Cons of Copay- The On Spot Flat Fee
The Pro of Copay is it reduces periodic expenditure on the premium amount.
The Con of Copy is that you may end up spending more on treatment costs. Making Health insurance policy less effective.
Types of Copay Clauses
Medical Conditions Related Clause
Hospital-Related Clause
Age-Related Clause
Location-Related Clause
Impact of Copay on HPA (Health Premium Amount)
Higher the Copay higher will have an impact on your HPA(Health Premium Amount). How? Let's see. There is a simple logic behind it. For instance, your Copay is higher and you have to pay that amount on each visit you make, making the insurer pay less. Hence, insurers incentivize you by decreasing the premium amount. So in the end you end up saving a huge amount on your premium.
FAQ
Is it compulsory to pay a Copay Amount? Although it is not mandatory to pay a Copay Amount each time you visit a doctor. Yet, some plans come with the payment of the Copay Mandatory. How to know my Copay Percentage? To know your Copay Percentage, all you need to do is make a quick few on the policy document. There you will get each detail of the Copy clause, percentage, etc. How does Copay Function? Copay or copayment is typically a sum you wish to pay at the time of guarantee settlement. With the guarantor paying the excess. The copayment condition is determined by the arrangement you select. For Instance, some safety net providers may require higher copayments if treatment is completed at a non-network clinic.