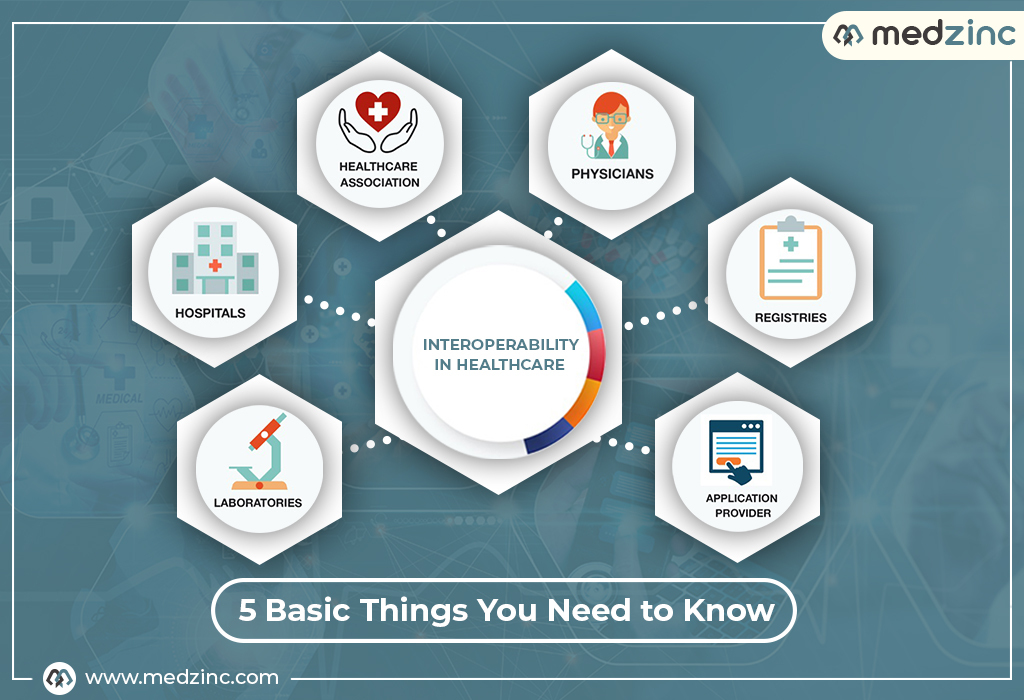 5 Basic Things you need to Know about Interoperability in healthcare
Interoperability in healthcare is one of the biggest problem solvers. It helps connect disparate systems to allow the exchange of data from one system to another. The goal of interoperability in healthcare is to make best use of the data in each application by integrating the data from different applications. Although Interoperability is a big word and it has been around for a long time. However, many people still don't know what it is and how it can impact their lives. This blog will look at what interoperability is, what are its types, levels, benefits and why it is important.
What is an interoperability engine?
An interoperability engine is a platform that enables different software applications to work together. It provides a way for data to be exchanged between applications. Moreover, allows for the seamless integration of new applications into existing systems. The engine provides a set of APIs and tools that can be easily used to build interoperable applications.
What is interoperability in healthcare?
Interoperability in healthcare is a software application that enables healthcare organisations to exchange patient data with one another. The engine allows for the bi-directional flow of information between disparate systems, which is essential for coordinating care to patients. The interoperability engine is crafted out to meet the requirements of HITECH ACT ( Health information Technology for Economic and Clinical Health.
What are the benefits of Interoperability in healthcare?
There are many benefits of interoperability in healthcare. Perhaps the most important is that it allows the exchange of patient data b/w different healthcare systems. This is critical for care coordination, as it allows providers to access a patient's medical history & records. In addition, interoperability can help ,
Improve communication between different providers
Improves quality of care & experience of patient
Reduces Medical Errors
Reduce duplicate tests and procedures
Accelerate healthcare efficiency
Reduces the cost of care
Mitigate physician burnout
Protecting patient data with security
What are the 3 types of interoperability?
There are mainly three types of interoperability: structural, functional, and technical.
Structural interoperability
Structural interoperability is the compatibility of different systems or components to work together. This is often achieved by using common standards or protocols that allow the different systems to exchange data and information. It is essential for the healthcare industry, where different systems need to be able to work together in order to provide effective care .
Functional interoperability
Functional interoperability is the ability of a system or device to interact with another system or device in order to exchange information and perform desired functions. In order for two systems to be functionally interoperable, they must be able to exchange data and understand the meaning of that data.
Technical interoperability
Technical interoperability is the ability of different systems to work together. In order for technical interoperability to be achieved, systems must be able to exchange information and data. They must also be able to understand each other's data and use it in a meaningful way. It is essential for healthcare organisations. As, it allows different departments and systems to communicate and work together.
What are the 4 levels of interoperability in healthcare?
There are mainly four levels of interoperability in healthcare:
Foundational Interoperability
Foundational interoperability is simply a component of data exchange between different systems. It is also known as simple transportation. It establishes itself in accordance with the integration and compatibility requirements required to share and receive data.
Structural Interoperability
The Structural format of medical information is referred to as structural interoperability. It allows the DMS (Document Management system) to automate the predetermined fields, and is also known as structured transport. As a result, the operational purpose and meaning are preserved.
Semantic Interoperability
It allows for standard hidden models and information codification. Including the use of information components with standardised definition from openly accessible value sets and coding. Thus, providing the client with mutual perspective and importance. When at least two frameworks can trade, access, and use data, this is referred to as semantic interoperability.
Organisational Interoperability
It Incorporates management, strategy, social, legal, and regulatory considerations to work with the solid, consistent, and optimal correspondence and utilisation of information both within and between organisations, substances, and people. These components promote mutual consent, trust, and coordinated end-client cycles and work processes.
Why is interoperability important in healthcare?
There are many reasons why interoperability is important in healthcare. Perhaps the most important reason is that it can help to improve patient care. When different healthcare systems are able to communicate and share data with each other. It can make it easier for providers to coordinate care and make sure that patients are getting the treatment they need. Interoperability can also help reduce costs. When different systems are able to share data, it can help eliminate duplicate tests and procedures. Moreover, it can also help providers to avoid potential errors. In addition, interoperability can help to improve public health. When data is shared between different healthcare systems, it can help public health officials to identify and track potential health threats, and it can also help to improve disease surveillance. Overall, interoperability is important for many reasons. It can help to improve patient care, reduce costs, and improve public health.